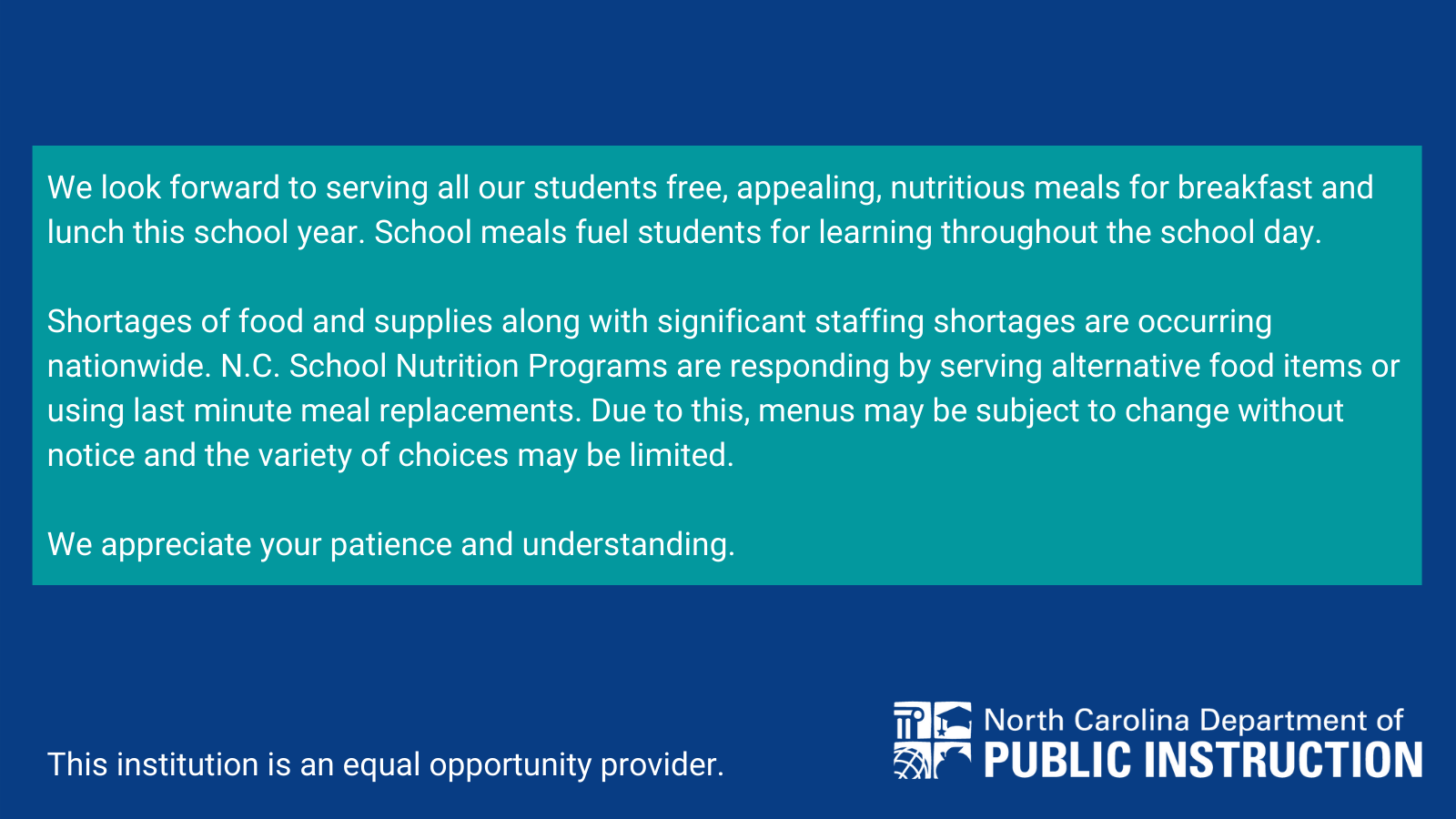 Welcome to School Nutrition Services
All enrolled Johnston County Public School students (on-site & virtual) will receive free breakfast and lunch, granted by USDA until June 30, 2022 or until USDA defines otherwise.
It is still encouraged to fill out a Free/Reduce Application that can be found on this website
Beginning Monday August 30, 2021 meals will be available to JCPS Virtual Academy students via curbside pickup at any of the following pickup locations.
Corinth Holders High School
South Johnston High School
West Smithfield Elementary School
Good nutrition and learning go hand in hand!

The JCPS Nutrition Services department is made up of a team of food and nutrition professionals that are dedicated to students' health, well being and their ability to learn. We support learning by promoting healthy habits for lifelong nutrition and fitness practices. Meals, foods and beverages sold or served at schools meet state and federal requirements which are based on the USDA Dietary Guidelines. We provide students with access to a variety of affordable and appealing foods that meet the health and nutrition needs of students.
The mission of JCPS School Nutrition Services is to provide a nutritionally adequate, moderately priced breakfast and lunch for every Johnston County Public School student, so that they are enable to take full advantage of the educational process. Hungry children have been shown to exhibit behavioral changes, tardies, and absences which may limit their response to learning opportunities. We take pride in being a highly trained, dedicated, and professional team who works continuously of fulfilling this mission.
Did You Know?
* We employ over 190 food service professionals
* All of our School Nutrition Managers are Serv-Safe certified
* We are a self-supporting program. The only funds we receive are from our customers (students and adults) and a small refund for each reimbursable meal served from the Federal government
* Menus are planned by trained culinary and nutrition professional along with an organized menu committee
* Our Health Inspection Safety scores are an average 99.8 for 42 schools
* All menus follow USDA guidelines and pass through a rigorous nutritional analysis yearly
Special Meal Accommodations
Students that require special dietary needs can range from lactose intolerance to severe food allergies. Below are steps you can follow to ensure your child's needs are being met through the National School Breakfast and Lunch programs at your child's school.
Lactose Intolerance:
What is needed? A physicians statement indicating your child is lactose intolerant and requires a Johnston County Public Schools School Nutrition Services approved substitute.
Food Allergies (peanut, milk, wheat, fish, shellfish, soy, treenut, egg):
What is needed? If your child has a food allergy, it is best to have a medical statement on file with the registered dietitian in School Nutrition Services. You may download this form from this page. Please read all the instructions carefully.
Religious or Non-Religious Food Preferences:
What is needed? If you are vegetarian or have other food preferences, School Nutrition Services may provide substitutions for your child based on availability. These substitutions will be made on a case-by-case basis and may not be awarded to all that request dietary modifications. You will need to call Child Nutrition Services for more information.
Food Intolerances:
MEAL SUBSTITUTIONS FOR MEDICAL OR SPECIAL DIETARY REASONS
USDA Regulation 7 CFR Part 15b requires substitutions or modifications in school meals for children whose disabilities restrict their diets. A child with a disability must be provided substitutions in foods when that need is supported by a signed statement from a licensed physician.
What is needed? If your child has an intolerance to food such as MSG, School Nutrition Services may provide a substitution for your child based on availability. These substitutions will be made on a case-by-case basis and may not be awarded to all that request dietary modifications. You will need to call Child Nutrition Services for more information. This provision covers those children who have food intolerances or allergies, but do not have life-threatening reactions (anaphylactic reactions) when exposed to the food(s) to which they have problems.
In Cases of Food Allergy
Generally, children with food allergies or intolerances do not have a disability as defined under either Section 504 of the Rehabilitation Act or Part B of IDEA, and the school food service may, but is not required to, make food substitutions for them. However, when in the licensed physician's assessment, food allergies may result in severe, life-threatening (anaphylactic) reactions, the child's condition would meet the definition of "disability", and the substitutions prescribed by the licensed physician must be made.
Medical Statement for Children with Special Dietary Needs
Each special dietary request must be supported by a statement explaining the requested food substitution and must be signed by a recognized medical authority. The Medical Statement must include:
An identification of the medical or other special dietary condition which restricts the child's diet;
The food or foods to be omitted from the child's diet; and
The food or choice of foods to be substituted.

If we do not receive a medical statement from a recognized medical authority, your child will receive a regular lunch tray. Medical statements completed by parents or guardians will not be accepted.
Food Allergy Disclaimer: The School Nutrition Department prepares food in commercial kitchens, where cross-contact with food allergens is possible and ingredient or recipe changes can be made . Also, manufacturers of commercial food products we purchase may change their product formulation or ingredient consistency at any time without notification. Actual ingredients and nutritional content may vary and we are not able to guarantee that any food item will be completely free of food allergens. If you have questions or any concerns regarding ingredients of a specific food or recipe, please contact the Johnston County Public Schools' -School Nutrition Department 919-934-1304
MEDICAL STATEMENT TO REQUEST SPECIAL MEALS AND/OR ACCOMMODATIONS